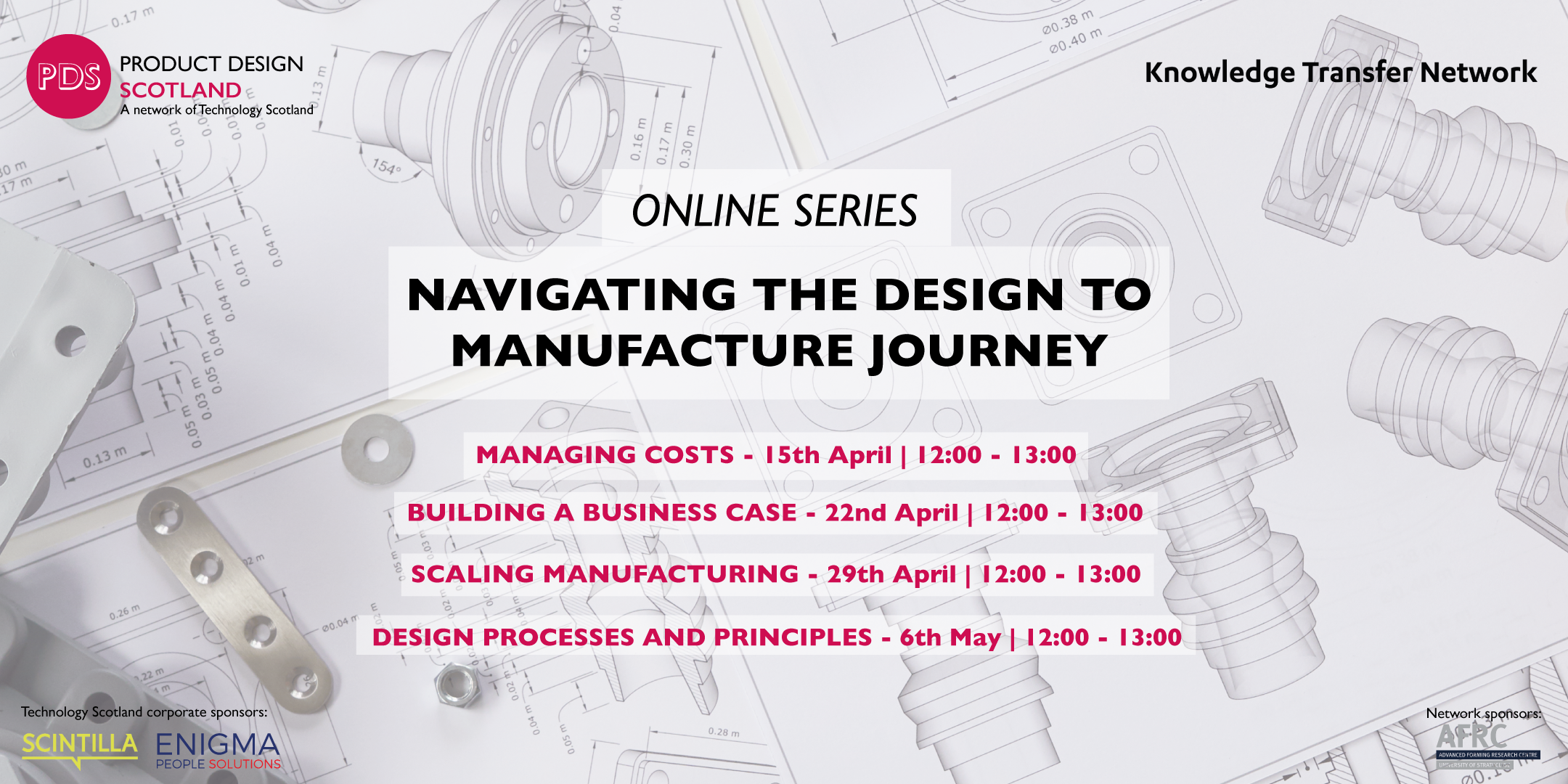 ABOUT THE EVENT
BACKGROUND
Turning an idea into a scalable, commercial product is a challenge that faces many entrepreneurs, innovators and SMEs. Developing a new product, new functionality or new customer experience can be difficult, and the design to manufacture process must be given careful consideration to ensure that development costs and timelines are managed effectively.
Navigating this process can be daunting and good communication between stakeholders is vital. By understanding what designers and manufacturers care about, it will be easier to establish the good relationships and processes that will avoid costly, time consuming changes further along the development process.
Product Design Scotland in partnership with the ktn manufacturing team have curated an exciting and informative lunchtime programme – join us each week for an opportunity to hear from representatives across the design to manufacture space. Experienced innovators and specialists will give their own perspectives on the challenges and important considerations that should inform early stage product development.
Grab a tea and a sandwich and join Abi Hird and Alastair McInroy each Wednesday for expert insights, stimulating debate and an opportunity to join our diverse and vibrant community collectively focused on navigating the design to manufacture journey.
WHAT TO EXPECT
Our aim is to build community. Attendees are expected from across the innovation, consultancy and contract manufacturing space.
Innovators – SMEs, spin-outs, academics
Technology providers/systems integrators
Design consultancies
Contract manufacturers
Investors
Each one-hour online meeting will include three presentations from thought leaders on a specific aspect of the design to manufacture journey. This will be followed by an interactive Q&A session and an opportunity to connect. Across the whole series we will be using meeting mojo to facilitate connections enabling relationships to flourish.
Managing costs
15th April | 1200-1300
Planning funding beyond a prototype, managing cashflow, considering costs of manufacturing and designing with costs in mind are just some of the challenges that innovators as they navigate the design to manufacture journey. The first session in our series covers an important topic – one which is frequently overlooked until it is too late!
Hear about some key topics from our engaging speakers:
Tips on how to avoid common pitfalls when outsourcing design, the value of creative pragmatism and avoiding a funding shortfall.
Insights into why scope definition and good prototyping strategy are critical to managing costs.
The importance of thinking about the feasibility and cost of manufacturing processes – how to strike the right balance between desirability, viability and feasibility.
Building a business case
22nd April | 1200-1300
Often innovations are technically brilliant! However, to successful traverse from design to manufacture the opportunity, the offer and the capability of the business must align. It's no mean feat!  The second session in our series covers an important topic, one which is frequently overlooked until it is too late!
Dr Jake Larson, Knowledge Transfer Manager, Design and Innovation Effectiveness, ktn
Mark Shayler, Founder at Ape
Professor Tim Vorley, Deputy Dean & Professor or Entrepreneurship
Scaling manufacturing
29th April | 1200-1300
Getting from a prototype to scaled manufacturing can be a huge chasm for innovators! Often funding dries up and a whole raft of unanticipated challenges emerge. This session prepares innovators for what is ahead and offers top-tips and insights based on a wealth of experience.  Forewarned is forearmed!
Mick Karol, MD, Blueprint product solutions
Adam Barmby, MD of BAMD composites and Founder and Technical Director at EAV Cargo– Electric Assisted Vehicles Ltd.
Design processes and principles
6th May | 1200-1300
Having confidence that a great solution has been developed is the result of good design. It's critical to make sure you have a product that addresses a well understood need, is useable and delivers desirable functionality at an acceptable cost. Design can add value in many ways! For the fourth week in the series, our expert panel provide some insights to design processes and methods and the benefits they can bring.
Will Mitchel, Design Director, 4c Design Ltd. Chair Product Design Scotland
Derek Liddle, Invent Design Build
TBC